Help Dairy Farmers and Families in Northern California
Project Spilled Milk aims to make the best out of a bad situation—that our farmers are supported, and that food gets to people who need it. All funds raised from this campaign will be used to purchase sheep milk from our local farmers, which we'll use to make delicious yogurt to donate to Bay Area food banks.
Covid-19 has caused widespread disruption to agricultural businesses and family farms. 50% of the US food supply is consumed in restaurants and with so many restaurants closed, the impact on artisan dairy production is substantial—Bellwether Farms' foodservice customers have not ordered since the end of March. Simply put, our network of family sheep dairies is now producing a lot more milk than we can effectively sell.
Simultaneously, the massive unemployment throughout our economy is putting unbelievable strain on our essential hunger relief organizations. Here at Bellwether Farms, we find ourselves in a unique position to help both farmers and those in need of high-quality nutrition. That's why we are starting Project Spilled Milk.
The Need
Restaurants, schools, and universities represent the largest bulk purchasers of dairy across the United States. Since their doors have been largely closed due to the global pandemic, many dairy farmers are finding themselves with excess milk and no one to buy it.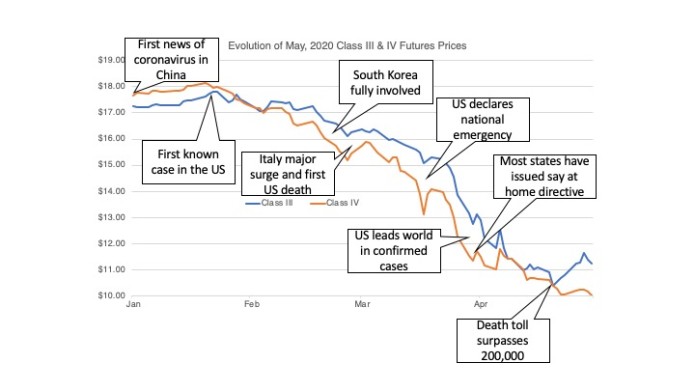 The graph above shows the steep decline in dairy prices related to COVID-19. Class iii milk is used to make cheese and class iv is used for butter and dried dairy products. Source.
At the same time, people across the country are losing their jobs and finding themselves in need of financial and food security. Food banks are bridging the gap caused by the increasing unemployment rate and many are struggling to meet the rising demand.
The Impact
We will pledge to dedicate one production shift each week to this effort. Project Spilled Milk has the goal of raising $50,000, which will allow us to buy the milk, ingredients, and packaging necessary to deliver 25,000 16oz containers of yogurt to food banks in Northern California.